Specifications



Image Sensor: 1/3" Sony CCD Chip


Camera Mounting Height: 12 ~ 14 ft


Activation Time: 1 ~ 2 seconds


IR Range: 100 ft (~30m) in total darkness


S/N Ratio: ³ 48 dB


Cable and Power: Cat5e and power over Ethernet (PoE)


Ambient Temperature: -22 °F ~ 140 °F (-30 °C ~ 60 °C)


Operating Humidity: 0% ~ 96%


Operating Environment: All weather, day and night


Dimension (computer): 8.5''(L)´6.5''(W)´2''(H)


Dimension (sensor): 5''(L)´7''(W)´3.5''(H)


Failsafe and watch dog timer support


Download


Product configuration user guide can be downloaded here.


Product cutsheets can be downloaded here.

Product installation guide can be downloaded here.

Reporter user guide can be downloaded here.


MigmaPedCountTM Reporter Download
Step 1: Download environment setup:
Step 2: Download setup program
ClientGUI 32bit
MigmaPedCountTM is an outdoor passive pedestrian detector and counter at street crossings. It can count multiple pedestrians walking in groups through advanced pedestrian tracking technology. The pedestrian counting sensor consists of stereo camera and scanning laser. Advanced features include:

High resolution IR LED stereo camera for day/night detection


High resolution laser scanner for separation of pedestrians


Industrial single board computer (SBC) running Windows XPe


Counting large number of pedestrians walking in groups and
in two directions simultaneously with accuracy over 95%


Pedestrian counts and/or images are saved locally in USB drive
and/or remotely at the server in traffic control center


Stored data are organized in terms of timestamps and location
names such as state, city, intersection and corner


Standalone system utilizing city network for data transmission


Sensor is powered over Ethernet (PoE)

Simple wiring and connection using CAT5e Ethernet cables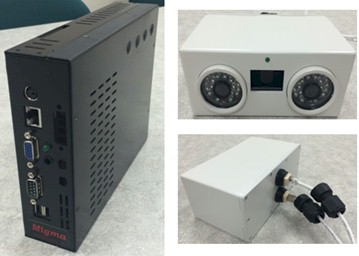 In addition to accurate pedestrian counting, MigmaPedCountTM also provides intersection performance measure that include:



Pedestrian volume at different time


Pedestrian average walking speed


Pedestrian occupancy per signal phase

A standalone desktop software application can be used to remotely access pedestrian counts and intersection performance measure stored at the server and be graphically displayed at local computers.